Thank you for your interest in volunteering with Brighter Bites!
Volunteers are essential to the success of Brighter Bites, and we are extremely grateful to you for choosing to help us and the families who participate in our program.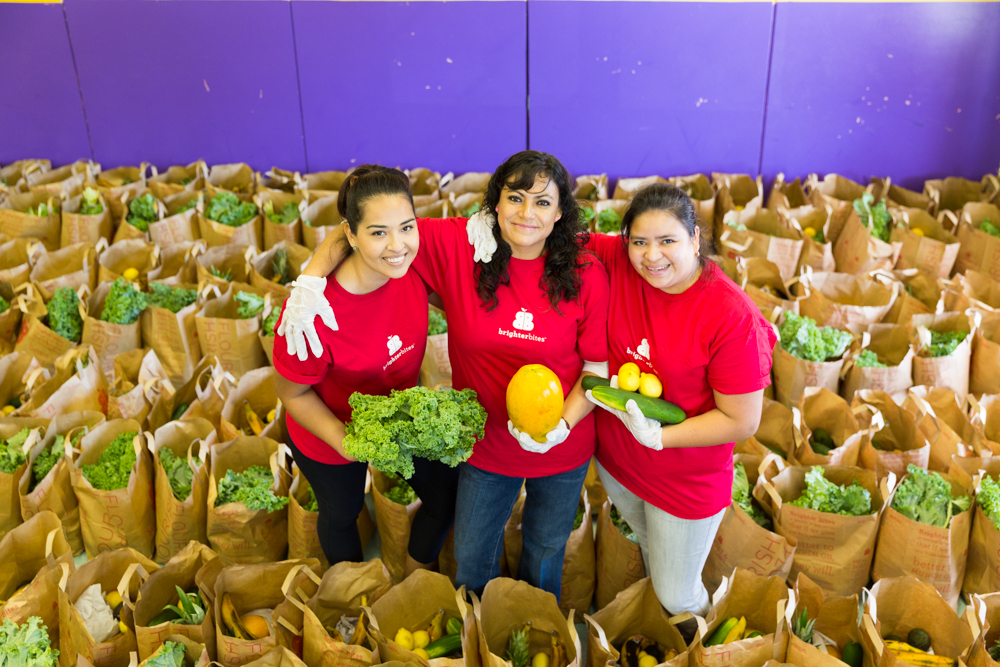 Brighter Bites is a nonprofit that creates communities of health through fresh food with the goal of changing behavior among children and their families to prevent obesity and achieve long-term health.
The Brighter Bites program uses a simple formula to accomplish its goal: Produce Distribution Nutrition Education a Fun Food Experience, which includes sampling a recipe of the week to see just how great produce can taste.
1. Produce Distribution - For eight weeks each in the fall, spring, and summer, Brighter Bites distributes fresh produce for participants to pick up and take home. Each week, families and teachers receive two bags, containing 50 servings (~25lbs), of a variety of fruits and vegetables. The produce is primarily donated, and we are purposefully channeling it into low-access communities.
2. Nutrition Education - Brighter Bites supports the teachers in schools, camps, and other educational centers to implement an evidence-based coordinated school health nutrition program. Parents also receive weekly educational tools with their bags, including nutrition handbooks, recipes, and tip sheets.
3. Fun Food Experience - During weekly produce pickups, Brighter Bites staff and volunteers create a fun food experience for the whole family, demonstrating colorful recipes and passing out samples that incorporate that week's fresh produce.
Parents and community volunteers pack bags of fresh produce for families to take home each week during three eight-week sessions. Each free two-bag set contains approximately 50 servings of eight to 12 different produce items.
Since 2012, Brighter Bites has provided more than 16 million pounds of produce and 100,000s of nutrition education materials to more than 40,000 families and teachers in Houston, Dallas, Austin, New York City, the Washington, D.C. Metropolitan Area, and Southwest Florida.
The events listed below are those that still need volunteers. To learn more about an event, click on the event name. We look forward to serving with you!
INFORMATION FOR LARGE GROUPS:
If you would like to bring a large group to volunteer and cannot find an event or shift with enough space, please reach out to your city's volunteer coordinator below to schedule an opportunity for your group:
Houston - jackie.delagarza@brighterbites.org & juana.flores@brighterbites.org
Dallas - ibeth.hernandez@brighterbites.org
Austin - mia.ellis@brighterbites.org
NYC - shey.hall@brighterbites.org
Washington, D.C. - carolina.moppett@brighterbites.org
Southwest FL - clarissa.sarsama@brighterbites.org
Salinas - alicia.blanco@brighterbites.org

You can search events by Date, Location, or Type by using the calendar and search drop-down buttons below!